"No. Crazy is not questioning everything you are told." –Crazy Caerys
Janden Hale is the pen name of author Dan Donche, founder of ManArchy Magazine, and creator of the Everwind Universe, from which his current Everwind Series is based.
Described as a "dark, post-apocalyptic sci-fi series of stories that take place on a dying world," the Everwind Series has seen the successful releases of two entries so far, "The Facility" and "Legion of Liberty."
There is also The Everwind Times, a functioning online newspaper that reports on fictional events from the Everwind World. The Everwind Times introduces readers to the full scope of the Everwind Universe, in addition to providing links to "The Facility" and "Legion of Liberty," updates on the series, and breaking news on all things Everwind.
Hale doesn't stop there. He has The Everwind Wiki and Everwind Express Podcast as part of the experience, which The Everwind Times also provides links to.
Through the multi-media experience that the author has created with the Everwind Series and Universe, Janden Hale has become a promotional and creative force to be reckoned with.
And then he has the story to back it all up.
Anya Terismark, his protagonist from "The Facility," is one of "the rare ones who is still capable of bearing children—a Carrier. Her high street value makes her a priceless commodity to slavers, smugglers, and scientific facilities. Following a harrowing ordeal that left her with half an arm on one side, she finds herself trapped inside a medical haven for Carriers, a safeguard against the horrors of the post-plague wastelands. Her first day at the Facility introduces her to a new world filled with technology and indoctrination, yet is still not as it seems."
Readers can jump right into the story with "The Facility" and "Legion of Liberty"—both Available Now on Amazon—in addition to staying informed on upcoming entries in the series through The Everwind Times.
Dark Sci-Fi is the name of the game, and Solarcide recently had the pleasure of catching up with Mr. Hale to discuss Everwind, his upcoming "Klondike" graphic novel, ManArchy Magazine, and more…
The Interview
August was a big month for you. The Official Everwind Site launched, and it was announced that you're doing art for the "Klondike" graphic novel. Congratulations on these recent accomplishments.
With "Klondike" being based on Phil Jourdan's comedy/noir novel, how faithful will the adaptation be? Will there be any new creative input from you on existing scenes and character arcs, or will this be more of a straightforward adaptation? Are any scenes being cut, or will readers find the story intact as a whole once you bring it to life visually?
Thanks, yeah, it's been busy. I have a few other things happening around this time, too, that are keeping me on my toes. And trying to do all of this from jail only adds to the difficulty. I kid about that last part. The Klondike adaptation is going to be straight up, I'm just putting it into a visual format. I've been given free reign basically on the graphical side, so I plan to stay true to the original material in every way.
I will say, though, that it's the most daunting project I've done so far. I've never done a graphic novel before and I wanted a challenge, but the biggest hangup for me is that it's not just my name on the thing. I can deal with it if something of mine sucks, but I really don't want to let Phil down. He's a great dude and he deserves the best work from me, as does the audience.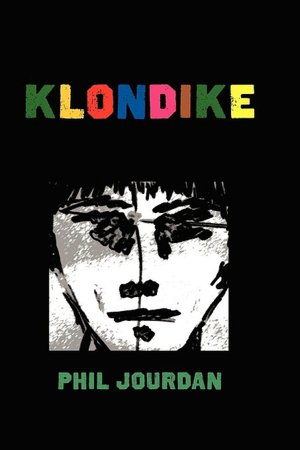 ManArchy Magazine has generated quite a buzz this year on top of seeing some interesting transformations in its short existence. Were some of these changes as far as extended staff and content part of your original vision, and is it a situation where the addition of Pela Via and the Velvet crew simply allowed you to fulfill that vision sooner than later? Or was their involvement an unforeseen event that helped you to re-think what ManArchy could be and offer the masses?
It was part of the original vision, yeah. When Dustin Carpenter and I launched the site back in January, we asked around for submissions from everyone we knew. We definitely wanted something huge and collaborative amongst a variety of writers and styles. We just got ahead of ourselves a bit and couldn't keep up enough for it to thrive. It was like waking up one day with a teenager to feed and you've got all this baby formula lying around. You wonder what happened. We had the Proxy IX film and other individual projects taking up most of our energy then, so it kind got swept onto the back burner.
Pela stepped up and kind of rescued it, sort of like Sandra Bullock's character in The Blind Side. It was exactly like that, yeah. She has a better way with getting people to want to do what she says than I do and she knew more people than I did, so it was really the best thing ManArchy could have asked for. Because of her and the rest of the crew that's now hanging around, ManArchy is really in good hands.
Do you see a void in entertainment magazines that you're hoping ManArchy will fill? What difference do you see ManArchy making in a market already saturated with entertainment magazines?
I do, yeah. It's a culture of entertainment gluttony right now, and has been for a long time. Do we really need more magazines that show how celebrities buy their own saran wrap and take their dogs to the beach? There is a saying that small minds discuss people while rich minds discuss ideas. Something like that. We wanted ManArchy to bridge the gap between intellectual entertainment and all the garbage. But we want it to still be something of a guilty pleasure. Not too healthy, not too cancerous. We are like the cigar you have after eating a healthy meal because you had that heart attack scare six months ago.
We always have a hard time describing ourselves. Because I can't do it effectively here, I will leave you with this philosophical apothegm, which describes the situation perfectly:
A fish unto water, a bird unto air, a man unto himself.
In addition to magazine founder and editor, you're also an author and creator of the Everwind Series.  
Readers at this time can check out two subchapters from the series, "The Facility" and "Legion of Liberty," which have been released to great reviews and reception.
You've classified the Everwind Series as Dark Sci-Fi. What separates Dark Sci-Fi for you from traditional Sci-Fi? What can readers expect to find in your stories that they might not be used to seeing in the Sci-Fi genre?
Well, one of my main beefs with sci-fi and fantasy is that it's all too PG for me. And I think that's the case because we seem to be locked into this perpetual cycle where everything out there is PG – no swearing, no sex, nobody ever takes a leak – so all the new authors for some reason maybe think there's some unwritten rule that you can't include those things. They always say to write the story you want to read, so that's what I'm doing. I can't stand books that tip-toe around real-life things like swearing, sex, etc. It's absolutely unrealistic to me and I believe there are guys out there like George R.R. Martin who are really doing blessed work. So by dark, I am referring to things that would make the film rated R or NC-17. Shit that makes people cringe. I've always said that if you're not cringing or scaring yourself by what you write, you're not pushing the boundaries. You're playing it safe. I don't want to play it safe.
The Everwind Times is a brilliant idea and way to promote a novel or story, or any artistic endeavor for that matter. It also seems like a pretty obvious "why didn't I think of that before" kind of marketing tool.
So speaking just to the initial response since its early in the game, are you seeing an encouraging result in terms of more awareness around the Everwind Series and Universe?
You know, I wish there was an easier way to tell you this. The short answer is no. I thought the site would be this sort of magic bullet, but it doesn't pull much traffic at all. So the old rules of consistent marketing and self-promotion still apply, I just happen to have this neat little party trick also at my disposal now. Don't get me wrong, everyone loves the concept. Everyone who goes there. The trick is getting people to temporarily abandon the teat of Facebook.
You've also set up the Everwind Wiki, and the Everwind Express Podcast, which make for some exciting ways for fans to get into the Everwind Universe, much like Breaking Bad fans can with the Breaking Bad Wiki and bonus content on that show's official site.
Whether it's a TV show, a novel, a comic, or movie, do you find it more intriguing from a fan's perspective if you can anticipate or treat an upcoming new release as an Event? Is it fun for you as the artist to create a multi-media experience for fans, or is it simply a matter of exploring more avenues to reach new readers?
I think events are definitely the way to go, and I anticipate being able to do that more effectively in the future. One of the main problems I have is that when something's ready for the public eye, I don't like to wait and build up anticipation. I figure there's already that anticipation that comes over the time it takes for me to create the thing, so I get too antsy.
What I like even more than the event of the release is the multi-faceted approach that draws people into your universe. If you look at almost every successful franchise in history (Star Wars, Harry Potter, LOTR) they all have things aside from just the story that fans can be involved with. And it's more than just merchandising. One of my biggest influences in the Everwind Series is actually the Fallout franchise of games. I love the amount of detail that goes into creating the universe. And I love concept art, music, all sorts of other media, so I try to incorporate that into my stories to add to the flavor.
Let's talk about violence in fiction and art for a moment. You live in Colorado, which has seen its fair share of tragedy in recent months. Does an unfortunate event like the Aurora shooting make you second-guess an artist's responsibility when exploring darker mediums such as sci-fi, horror, and noir to tell a story—mediums in which violence is commonplace?
It does, actually. Only because I think about what I would feel like if someone went out and did a bunch of harm on people based off something I wrote or portrayed in a video or something. I know Stephen King has dealt with that issue with a school shooting, and it's not something I want to experience.
But ultimately it boils down to being the responsibility of the individual. In a situation like that, a person who is capable of such things doesn't need your inspiration. So you can't let that kind of fear limit you.
Comparisons to Children of Men will be inevitable, but even with Children of Men, we're following a male protagonist while the female with child takes a supporting role, whereas your story "The Facility" puts Anya and the carriers front and center. 
This subchapter of Everwind is about females, and rightfully so. This makes for a far more engaging read, and puts readers right into the divided mindset of the carriers vs. the point of view of a male. Seeders and guards, in fact, are not painted in a favorable light in this subchapter. 
Why did you feel that it was so important to begin the Everwind story with the females and carriers, or Anya for that matter, vs. with a male protagonist or the gang that you introduce in "Legion of Liberty?"
There are actually several reasons for this, the main one actually being something that hasn't yet been revealed in future works, but I also wanted to mainly talk more about the Facility. The building itself and what goes on there. It makes a very brief appearance in the first book, Outrider, which I'm working on now, so I wrote The Facility to go into more detail on what that place was all about. I also needed to highlight the gravity of the mass infertility, which is only one of several major things working against humanity and which we'll touch upon a lot throughout the series. But being that I wanted to give more about what goes on there I felt the story worked best when told from the eyes of a newcomer, hence the female protagonist, Anya.
There's a scene in "The Facility" where Serika is trying to sell Anya on her new surroundings. "Just give it a chance, you'll see. Everyone is happy here. We were all scared once, but now there is hope."
Is this a political statement on our current administration in the White House or a statement on American politics in general, or is that reading too much into the story and conflict between Serika and Anya?
Because in "Legion of Liberty," where we're introduced to the outside world, while a new male character, Kes, asks the questions, "Do you like the way things are? Or would you like to live this way for the rest of your days? How would you like to be able to get anything your heart desires?"
Is Kes taking the argument of being economically outclassed further and suggesting that the problem isn't a system, but mankind in general? That we all want the same thing at the end of the day and would act the same to get it?
I actually use a lot of political stuff in the stories, and I plan to unveil some of the major social commentary on our current situation here in the US a little more as we go through the series. In fact, the driving focus of LEGION is the new philosophy Influism, which is entirely based on current events. The scene in the Facility is more of a micro thing showing how effective indoctrination is in keeping people docile. This will be a recurring theme throughout everything, and is actually why Kes has to figure out what will motivate the people to action. In that situation it was purely economical.
The entire idea behind the series is kind of like taking a world like Middle Earth and reimagining it about 8000 years into the future, when the world is dying and magic is long gone. So you have all these elements (plague, famine, draught, war, and infertility). This is why there is such a strong political theme throughout the story, because I'm interesting in figuring out how governments with different views would handle the scenarios, especially when you introduce new cultural paradigms.
Anya distrusts Serika as far as the safety of her new surroundings, but chooses Serika as far as revealing how she lost her arm. This is obviously a counter-argument or a conscious effort on Anya's part to compare The Docks to "The Facility" as a means of convincing Serika that she's actually wrong about their safety, but what's interesting is how we find in "Legion of Liberty" that the outside world is on a lot of levels as terrible as The Facility would have the carriers believe.
Is your ultimate goal to bring the characters from each subchapter together down the road or introduce of mix up of environments finding Anya, Serika and maybe Caerys in the company of the Legion?
Yeah, basically the outside world is extremely terrible. It's sort of a mix of Mad Max with elements of Blade Runner when you get to major cities. So the people at the Facility aren't lying when they're saying it's safer there for the Carriers, but they are lying by saying that safety is the sole reason for the Facility. I can't reveal the purpose at this time, but when you know what's going on, it makes sense to tell the inhabitants you're there to help.
Thank you for your time, Janden. We leave our Solarcide audience with some insight into Anya's character. 
"Books. Yet another luxury. Long-term value trumped by the immediate need for warmth and food.
She had eaten a page or two in her day."
—Janden Hale, "The Facility"
And be sure to check out An Exclusive/New Everwind Story right here at Solarcide, titled "Gift of the Rook." 
Buy "The Facility" and "Legion of Liberty" at Amazon: http://www.amazon.com/Janden-Hale/e/B0087XDHU2/ref=ntt_athr_dp_pel_1
Stay informed on the Very Latest from the Everwind Universe by reading The Everwind Times: http://everwindtimes.com/
Visit Janden Halen: http://jandenhale.com/
Find Quality Entertainment in ManArchy Magazine: http://manarchymag.com/core/